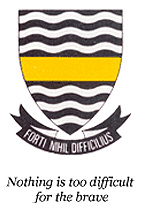 Upcoming Events
News

The new dance squad leaders Rhetsabile Manaka and Monique Tigere performed a dance they had choreographed themselves at final assembly […]

Thelma Brown was a pupil, teacher, mother of 4 daughters that went through the school, and member of the governing […]
More News
Centenary
Donate
Join Groups

MySchool
Click here for more info
Community Initiatives
The biggest initiative the school took part in for the community in 2015, 2016 and 2017 was the "67 blankets for Nelson Mandela Drive."
Jeppe Girls took up the 67 blankets challenge in December 2014 and since then, girls, educators, administrators, cleaning staff, friends and families have been busy crocheting and knitting handmade blankets for this wonderful cause which is spear-headed by a former Jeppe pupil, Carolyn Steyn. We handed over a total of 695 blankets in 2015, 687 in 2016 and 657 in 2017.
The project has brought a real sense of community to the school. Girls find knitting and crocheting relaxing and they feel that they are making a difference to someone's life. Here is what some of them had to say :
'They will know that these blankets they are receiving were made with love and I think they will appreciate that."(Khwezi Zwane Gr 8)
"Knitting is very nice and relaxing  while you are doing it; people are going to benefit from it and we are doing it in memory of a great man. "(Kezia Reddy Gr 9)
"I am knitting because I want to keep Madiba's legacy alive. He did such a great thing for our country and now I want to give back and also do something for our country. (Jessie Steyn Gr 8)
Koketso Ratlou (Gr 12) "My mum crochets and I knit. It's something we really enjoy doing together."
Blankets were distributed to the following in 2017: Ethembeni Baby Home (Salvation Army), Bertha Solomon Cottages, Hong Ming Chinese Home for the Aged and Max Goodman Cottages (via Rene Du Plooy of 'We Care'). Blankets were also taken to Cotlands in the Cleveland squatter camp, Protea South Soweto, Turfontein and Inner City Johannesburg Bien Venu and Vosloorus residents.
Thank you to everyone in the Jeppe community (including Jeppe Prep and Jeppe Boys) for joining us in this amazing journey. We could not have done it without you.
We will be continuing the blanket drive in 2018. Blankets need to be 180cm by 140cm and can be delivered to Carole Heming in Reception at the school.
Other 2016 Community Initiatives:
The Grade 8 and 9 learners spend a minimum of 30 hours doing community service at the end of each year.
Sandwiches – Weekly delivery of 125 sandwiches to Fairview Primary
Stationery Donations – annual collection for 125 Gr R learners (Gordon Primary)
Shoes – annual Matric shoe collection after Matric exams
District Collection – sports and school shoe footwear for needy children in D9
District Collection – Tinned food & ladies toiletries for Bienvenu Shelter
Casual Day
Collection of educational toys, stationery, books, craft materials and clothing to assist with therapy sessions for children at the Thelle Mogoerane Hospital's Rehab Centre.