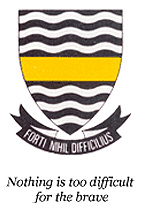 Upcoming Events

The Festival of Nine Lessons Carol Service and Tableau is an annual tradition at Jeppe Girls that started in 1945. […]
News

Bags for Books was a project that started at Jeppe in 2017. A group of ladies who are associated with […]

Congratulations to the Winner of the Sports Star of the Month for September 2018: Swayde Lessing (athletics). Swayde achieved over […]

Seven Jeppe teams participated in the TUKS High School 4-a-side Beach Volleyball Tournament held at Pocock's indoor volleyball arena on […]
More News
Centenary
Donate
Join Groups

MySchool
Click here for more info
Student Leadership
As well as being committed to academic excellence, Jeppe High School for Girls has a strong focus on developing individuals and encourages learners to explore their strengths and to respect, tolerate and understand others.
Councillors, together with the House Captains and Vice House Captains, play a very important role in building team spirit  at Jeppe Girls, adding colour and vibrancy to the school with their skits, war cries and posters and the events they organise – from the Grade 8 welcome party to the Inter-house Gala.   Educators have minimal involvement in the organization of these events, which encourages the girls to develop their management and leadership skills.
The Councillors for 2018 are:
Ruth Bowdler, Erin Conroy, Caitlin Davies, Micaela Ferreira, Cailin Fourie, Bronwyn Geen, Dominique Goncalo, Sabeehah Hamid, Bethany Harker, Tiffany Harzon, Sherry Jiang, Thembela Khuzwayo, Taskeen Laher, Thando Madondo, Minenhle Makhubu, Motshebe Mangole, Phumelela Mbutho, Tsakani Mhlanga, Jaime Moyce, Baleseng Noko, Ntsakisi Ntsekhe, Linda Nyembezi, Danielle O'Donoghue, Lakshita Padiachey, Carmen Parker, Masego Ramatsetse, Nawaal Satos, Kgomotso Sekhukhune and Shannie Wu.
The Head Councillors for 2018 are Sherry Jiang (Head Girl), Cailin Fourie (Deputy Head Girl),  Ntsakisi Ntsekhe (Deputy Head Girl) and  Lakshita Padiachey(Deputy Head Girl) .
 House Officials

2018

Captain
 Vice Captain

 Secretary
 Crassula  

 Carmen Parker
 Shannie Wu
 Lilian Ugochukwu
 Disa
 Minenhle Makhubu
 Masego Rametsetse
 Tiffany Harzon
 Gerbera
 Ntsakisi Ntsekhe
 Cailin Fourie
 Linda Nyembezi
 Harveya
 Thando Madondo
 Motshebe Mangole
 Danielle O"Donoghue
 Nerine
 Jamie Moyce
 Nneka Nwodo
 Hlakaniphile Mngomezulu
 Protea
 Phumelela Mbutho
 Lakshita Padiachey
 Bronwyn Geen
Representative Council of Learners (RCL)
Each class chooses a representative for the RCL at the beginning of each year. Meetings of the RCL are held monthly and provide a forum at which pupils can express their views. Opportunities are provided for them to voice their opinions and grievances and share ideas concerning the school's functioning, administration and activities and they have representation on the School Governing Body. The RCL teaches pupils to think critically and logically and advocates the principles of fairness and equality. The RCL members are responsible for implementing school projects in their classes including those that assist less fortunate communities.