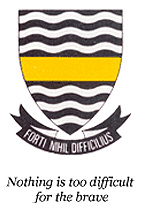 Upcoming Events

The Festival of Nine Lessons Carol Service and Tableau is an annual tradition at Jeppe Girls that started in 1945. […]
News
Newsletter September 2017
Parktown Girls, Pretoria Girls and Waterstone College participated with Jeppe Girls in their inaugural festival of football on Saturday 5 […]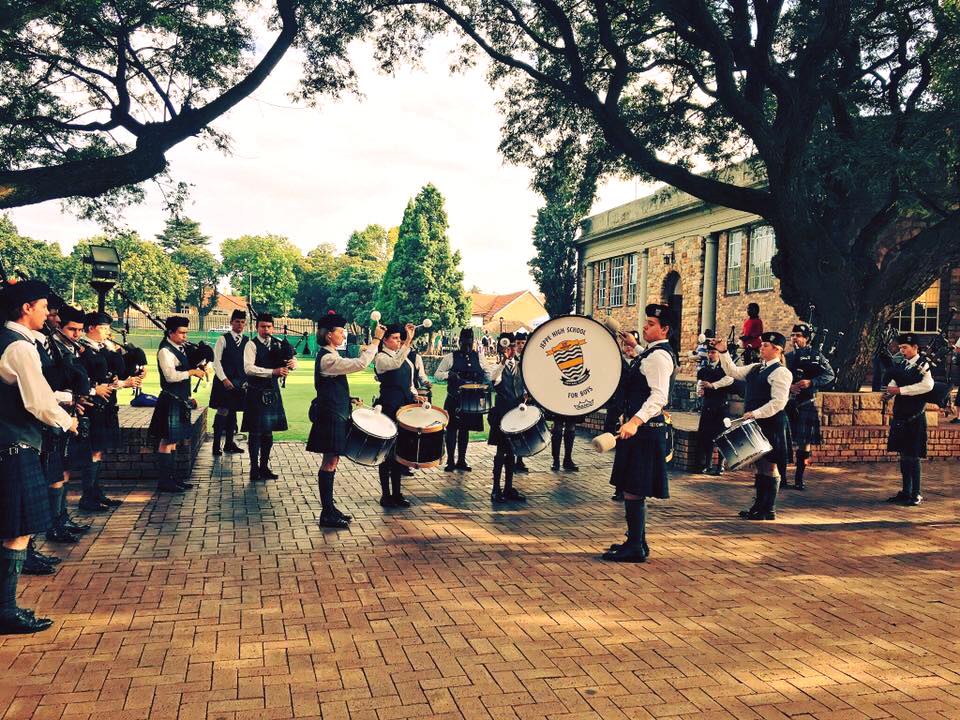 Congratulations to the Jeppe Girls who played in the South African Pipe Band Championships competition on  Saturday 29th July 2017. […]
More News
Centenary
Donate
Join Groups


MySchool
Click here for more info
Student Leadership
http://www.jeppegirls.co.za/wp-admin/upload.phpAs well as being committed to academic excellence, Jeppe High School for Girls has a strong focus on developing individuals and encourages learners to explore their strengths and to respect, tolerate and understand others.
Councillors, together with the House Captains and Vice House Captains, play a very important role in building team spirit  at Jeppe Girls, adding colour and vibrancy to the school with their skits, war cries and posters and the events they organise – from the Grade 8 welcome party to the Inter-house Gala.   Educators have minimal involvement in the organization of these events, which encourages the girls to develop their management and leadership skills.
The Councillors for 2016 are:
Savannah Aysen, Susana De Abreu, Raquel De Oliveira, Christie Despotakis, Yonela Dishi, Jenna Franks, Claudia Gomes, Firdous Hamid, Sinéad Hovelmeier, Nella Kyungu, Maryam Laher, Tasmiyah Laher, Bevelina Ledwaba, Gugu Mabhena, Keyynesia Martin, Katlego Matshwane, Woniso Mazonde,  Ntsako Mhlanga, Sasha-Lee Morare, Tshepo Moroka, Khanysile Ndaba, Bongiwe Nkabinde, Jenna Orchard, Lizan Potgieter, Courtney Tully, Thirasha Waidyaratne,  Erin Van Wyk, Angela Xia
The Head Councillors for 2016 are Thirasha Waidyaratne (Head Girl), Yonela Dishi (Deputy Head Girl) and Woniso Mazonde (Deputy Head Girl) .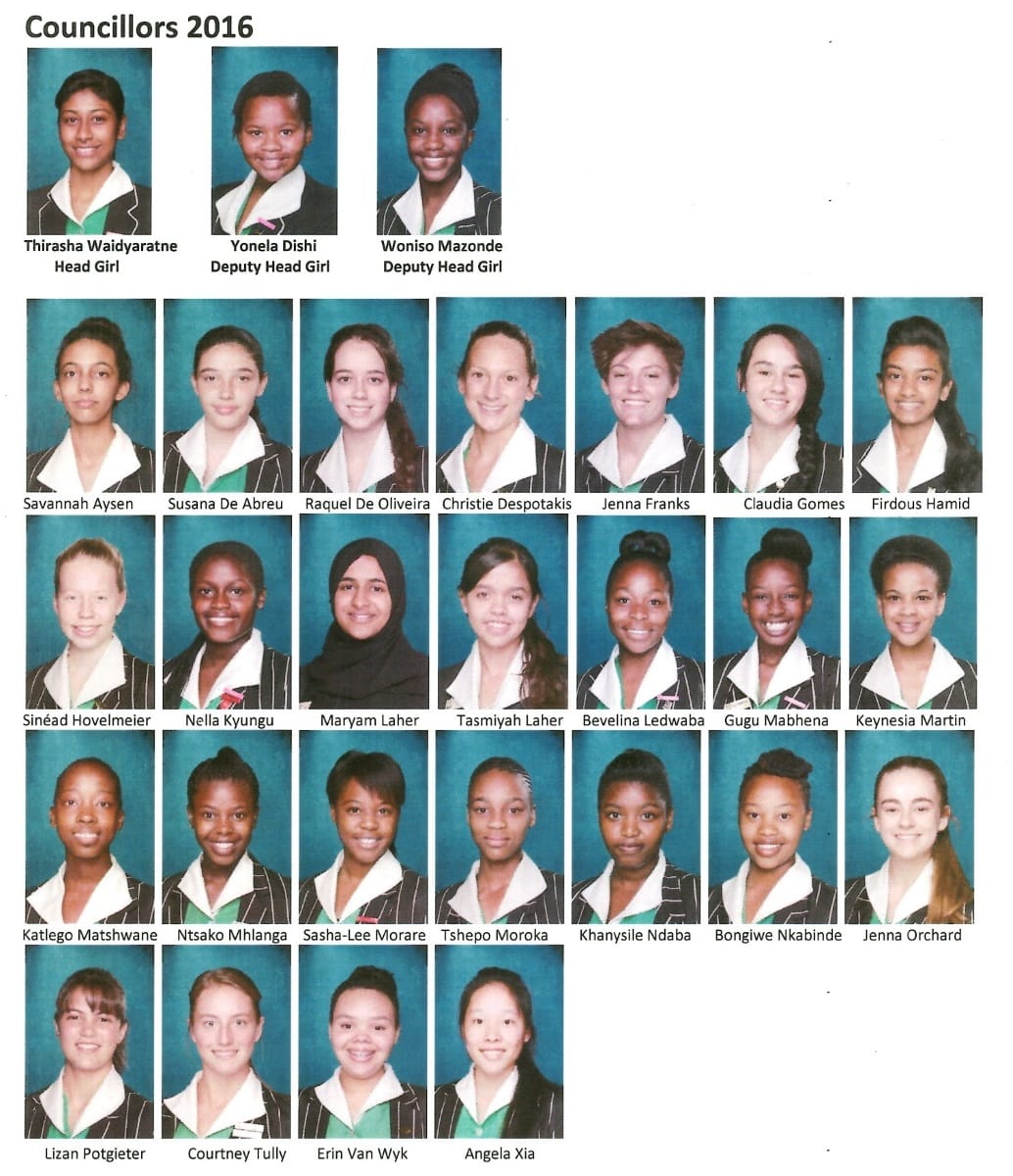 House Officials

2016

Captain
 Vice Captain

 Secretary
 Crassula  

 Firdous Hamid
 Daniella De Freitas
 Savannah Aysen
 Disa
 Yonela Dishi
 Tshepo Moroka
 Bevelina Ledwaba
 Gerbera
 Khanyisisle Ndaba
 Jenna Orchard
 Lindo Sukazi
 Harveya
 Ntsako Mhlanga
 Courtney Tully
 Keynesia Martin
 Nerine
 Gugu Mabhena
 Bongiwe Nkabinde
 Katelyn Hill
 Protea
 Christie Despotakis
Chantelle Schoultz
 Nella Kyungu
Representative Council of Learners (RCL)
Each class chooses a representative for the RCL at the beginning of each year. Meetings of the RCL are held monthly and provide a forum at which pupils can express their views. Opportunities are provided for them to voice their opinions and grievances and share ideas concerning the school's functioning, administration and activities and they have representation on the School Governing Body. The RCL teaches pupils to think critically and logically and advocates the principles of fairness and equality. The RCL members are responsible for implementing school projects in their classes including those that assist less fortunate communities.
RCL
Grade 12 Tebogo Motloung, Nontsikelelo Tshefu, Tsholofelo Mokotsi, Lindiwe Molepo, Daniella De Freitas and Nthabiseng Sibuyi
Grade 11 Firdaus Paruk, Natasha Dodd, Sashenka Naicker, Ngalula Tshiembi, Felicia Ntuli and Yoliswa Myaluza
Grade 10 Linda Nyembezi, Michaela Ferreira, Thando Madondo, Danielle O' Donoghue, Thembela Khuzwayo and Tsakani Mhlanga
Grade 9 Jessica Anderson, Naomi Govender, Ineeleng Moope, Mbali Ncube, Thabeka Mabasa and Tshepiso Mogale
Grade 8 Megan ReveleyCotwal, Motgan Zimmerman and Cassidi Johnson
Vice RCL
Grade 12 Diana Kinyanjui,Mpumi Radebe, Donna Lamb, Naseeha Laher, Sumaiya Shaik and Ntokozo Ntombela
Grade 11 Olea Khambula, Nthabeleng Mohlala, Sukeina Issufo, Refhiwe Matodzi, Caitlyn Slaughter and Danielle Siewe
Grade 10 Kgomotso Sekhukhune, Sherry Jiang, Lilian Ugochukwu, Bronwyn Green, Erin Mitchley and Mqondiso Mquqo
Grade 9 Jessami van der Merwe, Donna Butts, Melissa Nyalungu, Luyanda Geabashe, Jessica Slater and Shannon Palmer
Grade 8 Micayla Goncalves, Katie Edwards, Tasmin Fourie, Minenhle Mcineka, Cidra Mthembu and Zakirah Shafee