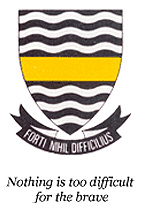 Upcoming Events

Friday 22nd February 14:30-18:00 and Saturday 23 February 08:30-12:30 Entrance Adults R10, Scholars R5. Refreshments will be on sale.

To download the document, please click on the heading "Code of Conduct 2019″ on the home page Menu and once […]
News

Congratulations to Ntsakisi Ntsekhe (class of 2018) who has been awarded a scholarship from the prestigious Allan Gray Orbis Foundation. […]

Congratulations to our class of 2018. They continued the school's legacy of excellence by attaining a 100% pass rate, the […]
More News
Centenary
Donate
Join Groups

MySchool
Click here for more info
School Shop
The school shop (situated next to the school tuck shop) contains a full stock of new uniforms, sports kit and tog bags.
A limited number of good quality second hand uniforms are also available.
The school shop's normal hours of opening are on Monday afternoons during term from 14:00 – 15:00.
Additional hours of opening:
Monday 26 November 2018 from 14:00 – 17:00
Saturday 1 December 2018 from  08:00 – 12:00
Monday 3 December 2018 from  14:00 – 17:00 
Saturday 8 December 2018 from 08:00 – 12:00
Monday 7 January 2019 from 08:00 – 12:00 and 14:00 – 17:00
Tuesday 8 January 2019 from 08:00 – 12:00
Monday 14 January 2019 from 14:00 – 17:00
Cash and all standard debit and credit cards are accepted. Please NO cheques
Uniforms are also available from Settler's Stores, 93 Broadway, Bezuidenhout Valley, Tel 011 615 1350