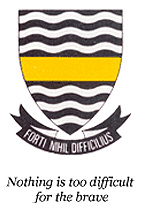 Upcoming Events

Friday 22nd February 14:30-18:00 and Saturday 23 February 08:30-12:30 Entrance Adults R10, Scholars R5. Refreshments will be on sale.

To download the document, please click on the heading "Code of Conduct 2019″ on the home page Menu and once […]
News

Congratulations to Ntsakisi Ntsekhe (class of 2018) who has been awarded a scholarship from the prestigious Allan Gray Orbis Foundation. […]

Congratulations to our class of 2018. They continued the school's legacy of excellence by attaining a 100% pass rate, the […]
More News
Centenary
Donate
Join Groups

MySchool
Click here for more info
Curriculum
Grade 8 and 9 
Learners follow a prescribed curriculum in Grade 8 and Grade 9. This comprises the following learning areas:
Mathematics
Language, Literacy and Communication – English and Afrikaans.
Natural Sciences
Social Sciences
Economic & Management Science
Life Orientation
Arts & Culture
Technology
Jeppe Girls is in the unique position of being able to offer specialised education as part of the Arts and Culture course. In addition to their Art and Culture lessons each week, Grade 8 and 9 learners are given the choice of either specialising in the visual arts or in music. Jeppe High School for Girls is one of the few state-aided schools that provide this option.
At the end of Grade 9, learners complete their General Education Training phase, which is an exit point from academic education.
Grade 10 to Grade 12

Learners who have successfully completed the General Education and Training Certificate (GETC) have the choice of continuing with the academic Further Education Training (FET) phase.
The subject choices offered by Jeppe High School for Girls from Grade 10 to Grade 12 are as follows:
4 compulsory subjects:
English Home Language
Afrikaans 1st Additional Language
Life Orientation
Mathematics or Mathematical Literacy
3 subjects from:
Accounting
Consumer Studies
Geography
History
Life Sciences
Music
Physical Sciences
Visual Arts
The following subjects are optional extra subjects:
Design (offered privately)
Advanced Programme English (IEB)
Advanced Programme Mathematics (IEB)