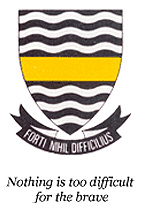 Upcoming Events

Friday 22nd February 14:30-18:00 and Saturday 23 February 08:30-12:30 Entrance Adults R10, Scholars R5. Refreshments will be on sale.

To download the document, please click on the heading "Code of Conduct 2019″ on the home page Menu and once […]
News

Congratulations to Ntsakisi Ntsekhe (class of 2018) who has been awarded a scholarship from the prestigious Allan Gray Orbis Foundation. […]

Congratulations to our class of 2018. They continued the school's legacy of excellence by attaining a 100% pass rate, the […]
More News
Centenary
Donate
Join Groups

MySchool
Click here for more info
Aquelle Midmar Mile Medalists
Congratulations to Caitlin Davies who is seen above with the special medal she was awarded for swimming 8 miles in the Aquelle Midmar Mile on Saturday 10th February and Sunday 11th February,  raising R10 000 for CANSA. 17 of our swimmers completed the mile in choppy water. Caitlin Davies was first out of the water in a time of 30.03 minutes (this being her fourth mile for the day). She was followed by Kristen van Aardt and Caitlynn Switala.
Special mention also goes to Caitlin Davies and Sydney McDougall who swam their 5th Midmar mile for Jeppe Girls this year.
                             The Aquelle Midmar Medalists
Back Row: Sydney Mc Dougall, Caitlin Davies, Nicole Baxter and Farryn Behenna
Third Row: Sarah Batchelder, Zia Fisher, Aisling de Lange and Kristin Van Aardt
Second Row: Olivia Van Honschooten, Angeline Radford, Rebecca Batchelder and Qamar Ngqawana
Front Row:  Caitlyn Switala, Nicola Roncaglia, Aléa Britz, Micaela Malyon and Amber McDermott