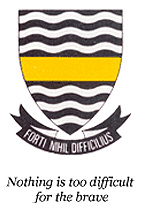 Upcoming Events
"Sister Act the musical" proudly presented by Jeppe High School for Girls by arrangement with DALRO (Pty) Ltd

To download the document, please click on the heading "Code of Conduct 2019″ on the home page Menu and once […]
News

Newsletter March 2019
Class of 2018 matric re-marks are available for collection at the school from Mrs Goldin until 14:00 today (14 March) […]

Congratulations to Ntsakisi Ntsekhe (class of 2018) who has been awarded a scholarship from the prestigious Allan Gray Orbis Foundation. […]
More News
Centenary
Donate
Join Groups

MySchool
Click here for more info
Cross Country
Congratulations to two of our Cross Country athletes, who were selected to represent the Central District at the Inter-District Individual finals on Monday 29 May at Pretoria Boys. Tristan Torr and Shauna Craddock qualified for the event by finishing in the top 20 for each of their age groups in the league events.
Tristan Torr competed in the Senior Girls category and finished 38th in a time of 20:43.
Shauna Craddock competed in the Junior Girls category and finished 40th in a time of 22:22.