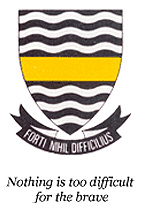 Upcoming Events

…an extravaganza of drama, dance and music on 11th and 12th May. Tickets will go on sale in term 2.
News

67blankets for Nelson Mandela are again going for a world record in July this year – the longest crocheted scarf. […]

Getting into the spirit of the 90th Flower Show which takes place on Friday 23rd February and Saturday 24th February, […]

Congratulations to Caitlin Davies who is seen above with the special medal she was awarded for swimming 8 miles in […]
More News
Centenary
Donate
Join Groups

MySchool
Click here for more info
Marimba Beat
The marimba group has gone from strength to strength and 2015 saw the release of their first CD.
They have played at a number of events this year, including the Jeppe Flower Show, the Kensington Spring Fair and the Ruth First Fiesta where they performed in the interval and were joined by the Jeppe Boys Marimba band.
The Office bearers for 2017 are Captain: Lesego Molefe and Vice Captain: Bethany Harker