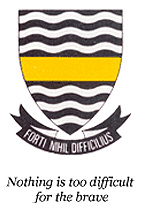 Upcoming Events

Friday 22nd February 14:30-18:00 and Saturday 23 February 08:30-12:30 Entrance Adults R10, Scholars R5. Refreshments will be on sale.

To download the document, please click on the heading "Code of Conduct 2019″ on the home page Menu and once […]
News

Congratulations to Ntsakisi Ntsekhe (class of 2018) who has been awarded a scholarship from the prestigious Allan Gray Orbis Foundation. […]

Congratulations to our class of 2018. They continued the school's legacy of excellence by attaining a 100% pass rate, the […]
More News
Centenary
Donate
Join Groups

MySchool
Click here for more info
Philip H Moore Music Competition
Philip H Moore (1916 – 2005) was born in Stockport, England. He graduated from University with a degree in Chemical engineering and built up a successful business in Durban. He was a philanthropist who donated money to many worthy causes, and he had a love for music, particularly classical music. The Philip H Moore music competition has been set up in his memory by his wife, Norma and his daughter, Victoria Bennett, who is a Kensington resident. Jeppe High School for Girls was approached in 2005 by Victoria Bennett to host the competition.
The competition for classical soloists was launched in 2006 and has gone from strength to strength since then. Catering for  musicians from ages 8 and under up to and including 25 years, the competition showcases a great variety of soloists playing instruments which have included cello, viola, harp, trumpet, trombone, guitar, voice, clarinet, saxophone, oboe, flute, recorder and piano. The competition comprises a First and Second Round and a Final Round in the form of a Gala event. The gala event is now held at the Brooklyn Theatre, Pretoria.