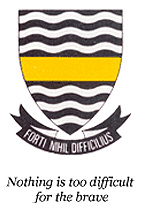 Upcoming Events
News

The new dance squad leaders Rhetsabile Manaka and Monique Tigere performed a dance they had choreographed themselves at final assembly […]

Thelma Brown was a pupil, teacher, mother of 4 daughters that went through the school, and member of the governing […]
More News
Centenary
Donate
Join Groups

MySchool
Click here for more info
In Memory of Thelma Brown (1923 -2019)
Thelma Brown was a pupil, teacher, mother of 4 daughters that went through the school, and member of the governing body for many years. Although frail, at the age of 96 she joined in Jeppe's Centenary Celebrations in September and Is seen here, smiling with Miss Gonçalves. Sadly she suffered a severe stroke shortly after the Centenary lunch and passed away on 2nd November 2019. She is sadly missed by her friends and family. Miss Gonçalves had this to say of Thelma: "What an amazing woman of courage who did so much for humanity. She leaves a legacy of goodwill and has inspired me to always look on the bright side of life. I will treasure her happy smile forever."
Her daughter Carolyn Petersen shared her mum's story with us as a tribute to her and all that knew her.
" Mum was born in 1923, and grew up in Mallard Street two away from the eastern end of the Girl's school . She did Gr 1 & 2 in one year so ended up matriculating at 16 years of age. She was academic enough to be able to go further with her studies and so she applied for a BA at Wits. Her parents were so proud to have a daughter eligible for university that they mortgaged their home to fund her education and when she graduated my grandfather wept with joy. Of course the War broke out during that time and my father who was her boyfriend at the time joined up and became a bomber pilot. They were teenagers and had to see many friends not make it through those ghastly years.
Mum got a teaching post at Jeppe Prep under Violet Hanner. She taught Std 2 & 3. I remember working for Claire Rossouw, the headmistress of St Mary's Primary School, and she told me that my Mum had taught her and she loved going to school to pretty Miss Stewart every day. Claire' s father was Mr Teddar who was a master at the Boy's school and later became headmaster of Kearsney College in KZN.
As soon as the war was over my Mum and Dad married but the law in those days stated that married women went onto temporary staff and their pensions were stopped. On top of that,my mother's salary was added to my father's putting him into a higher tax bracket, which hardly made her working financially viable.  How far we have come since those days of prejudice against women?
Mum left teaching to start her family but was often called back to stand in for teachers going on long leave. Remember in those days teachers could take a sabbatical term off.
My mother worked tirelessly for the Jeppe Schools on the PTA producing plays, running fetes and fundraising events. In later years she served on the board of the Governing Body.
All four of her daughters went through Jeppe from Gr 1 – Matric. We were Prefects and Head of House like our mother before us. My mother loved flowers and the Brown girls entered every category arriving at school in two vehicles to transport the flowers; Gerbera walked off with most of the prizes during our time at school."