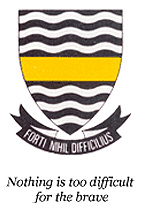 Upcoming Events
News

The new dance squad leaders Rhetsabile Manaka and Monique Tigere performed a dance they had choreographed themselves at final assembly […]

Thelma Brown was a pupil, teacher, mother of 4 daughters that went through the school, and member of the governing […]
More News
Centenary
Donate
Join Groups

MySchool
Click here for more info
Ruth First Scholarship
Home » Ruth First Scholarship
The idea of honouring the memory of Ruth First was initially conceived in 2008. When applying to become part of the prestigious Student Scholarship Programme (SSP), one of the questions asked was for a list of prominent Old Girls.
The school celebrated its 90th Anniversary in 2009 and again the spotlight was thrown on prominent old girls. Apart from a few international sportswomen and some leading academics, Ruth First stands head and shoulders above the rest of the old girls as a role model who not only excelled academically while at school but also had the courage of her convictions, far ahead of her time to challenge apartheid and play a crucial role in the shaping of the democratic South Africa. The Jeppe Schools' motto is Forti Nihil Difficilius – for the brave nothing is too difficult. Could anyone have better exemplified this than Ruth First? To begin with, the school Governors discussed the establishment of a Ruth First Award, which would be funded by the school and presented at the annual valedictory service in recognition of academic excellence, bravery and the overcoming of adverse circumstances to succeed. While this would achieve in-house recognition, it was felt that Ruth's definitive role in South Africa also needed to be recognised in the broader community. A website search brought 3 different scholarship programmes to light. The Ruth First Educational Trust (based in the UK)  used to fund two of the programmes, one at Durham University (where Ruth worked after going into exile), providing scholarships for disadvantaged students from Southern Africa to undertake post graduate studies; and the other, the Ruth First Fellowship, which is run under the auspices of the Wits Journalism programme together with the Ruth First Educational Trust and the African Studies Journal and provides opportunities for journalists or writers to devote time to in depth research "in the tradition of Ruth First". The third scholarship has just been launched by Rhodes University and provides for Masters and Doctoral studies. A Scholarship aimed at girls entering High School would therefore not conflict with these which are aimed at University level.
Trustees
The three founding trustees bring a wealth of educational, managerial and strategic expertise to their task.
Isabel Hofmeyr, also a Jeppe past pupil, is Professor of African Literature at the University of the Witwatersrand and is an internationally-renowned scholar in the field of African studies.  She has published several award winning books and is an A-rated National Research Foundation scholar.  She has worked in the tertiary sector for 25 years is a great admirer of Ruth First.
Christina Nomasonto Notununu, a former Jeppe parent and Governor, is a Director in the Office of the Deputy Director General.  Her career includes two decades' worth of experience in primary and secondary school teaching and management, including a stint as head of Eastgate Primary. She is a great proponent of the quality of education offered at Jeppe.
Elaine-Joy Sampson, formerly a Governor at Jeppe High Preparatory School, is an educator, school manager, heritage consultant, diversity trainer, Human Resources manager and business woman.  She trained at the University of Cape Town and has taught in Athlone on the Cape Flats and at Robben Island Primary School where she became an innovative and forward-thinking principal.  She oversaw the development of a Museum School which designed a curriculum around Robben Island and integrated ex-political prisoners and ex-warders.  Sampson is in the privileged position of having at her core a sense of this country's history which exists outside of history books.
Manager
Kevin Tait is the Trust Manager. A former Headmaster of Jeppe High School for Boys and Vice Rector of the Johannesburg College of Education, Kevin has been actively involved in education policy, curriculum development, religious education and teacher education and appraisal. He is a passionate proponent of good public education, and plays an important role in creating sustainable ways of funding top quality public education. Kevin has very close links with the Jeppe schools, his father in law also a former headmaster of the Boys'  School and his wife an educator at the Girls' School. He is also Secretary of the Jeppe Schools' Trust.
Patron
We are delighted to announce that Justice Albie Sachs has agreed to be the Patron of the Ruth First Jeppe High School for Girls Memorial Trust. He had this to say: "Ruth First was a wonderful friend, a brilliant thinker and writer and remarkably courageous in pursuit of freedom. I will do everything I can to honour her memory. I am delighted that Jeppe High School for Girls has taken this initiative which I support wholeheartedly. I commend it to all who value Ruth's profound contribution to the establishment of democracy in South Africa, and respect the sacrifice she made. It will be wonderful for many young women of diverse backgrounds to be given the opportunity to obtain top quality education at Ruth's old school and thus follow in her footsteps." The trust provides for full tuition at Jeppe High School for Girls for the duration of secondary school education. It has the full support of Ruth's three daughters, Shawn, Gillian and Robyn Slovo, and Gillian attended the launch. Ruth's daughters had this to say: "We are delighted that Jeppe High School should remember her in this way. Ruth was the first in her family to matriculate and she believed firmly in the power of education, especially for girls.  We can think of no better way of honouring her memory than to encourage   future  generations to develop the  skills and understanding  that   can be used for the betterment of the country to which she dedicated her life and  so loved."
First Recipients of the Trust The first four recipients of the trust for 2011 were announced at the launch of the memorial trust on the evening of 27 October 2010. The 4 recipients are seen here with Gillian Slovo who was guest speaker.
Second Recipients of the Trust The second recipients of the Trust for 2012 were announced on the evening of 15 November 2011. The 6 recipients are seen here with Albie Sachs (Patron), Professor Isabel Hofmeyr (Trustee) and Dina Gonçalves (Headmistress)
Third Recipients of the Trust The third recipients of the Trust for 2013 were announced on the evening of 30 October 2012.They are seen here with Dr Frene Ginwala (who was guest speaker for the evening), Professor Isabel Hofmeyr (Trustee) and Dina Gonçalves (Headmistress).
The trust is aimed at young women in Grade 7 who are deserving, merit worthy and academically able and who even at a young age show characteristics of leadership, courage, determination and the ability to influence their community positively.
Acknowledgements
We would like to acknowledge the generous support and advice of Absa Bank who assisted us greatly in the process of setting up the trust and provided the initial funding for the trust; KPMG agreed to act as honorary auditors. For further information please contact Kevin Tait on ruthfirstjeppetrust@jeppegirls.co.za or 011 616 5090 or visit www.ruthfirstjeppetrust.co.za