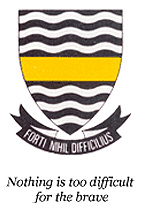 Upcoming Events
News

The new dance squad leaders Rhetsabile Manaka and Monique Tigere performed a dance they had choreographed themselves at final assembly […]

Thelma Brown was a pupil, teacher, mother of 4 daughters that went through the school, and member of the governing […]
More News
Centenary
Donate
Join Groups

MySchool
Click here for more info
11 New Scholarships (2014)
"There can be no investment more important than to invest in the education of young people" said Governor Gill Marcus, who gave the address at the Annual Review of Ruth First Jeppe High School for Girls Memorial Trust which took place at the school on Tuesday 29th October 2013.
Governor Marcus said she was privileged to speak at the event which honoured Ruth First and supported the education and development of young women in South Africa. She congratulated the school, the headmistress and teachers on their fine tradition of excellence in education, mentioning our 100% matric pass rate for 19 consecutive years and the high proportion of Jeppe girls qualifying to attend university. She also congratulated the young women who have won scholarships to attend the school.
The recipients of the scholarship for 2014 are Ivana Garvanski from Tom Newby Primary, Sherry Jiang and Claudia Steincke from Leicester Road Primary, Lerato Letele from Emadlelweni Primary, Tayana Magatti from Aston Manor Primary, Francesca Martis from Park Senior Primary, Jamie Moyce from Jeppe High Preparatory, Nawaal Santos from Robertsham Primary, Kgmotso Sekhukhune from Colin Mann Primary, Humayra Akhalwaya from Linksfield Primary and Nneka Nwodo from Sir Edmund Hillary Primary. These young women were selected out of 160 applicants from 125 schools.
There are now thirty on the Ruth First Memorial Scholarship. The first four girls selected for the scholarship at its launch in 2010 will be going into Grade 11 next year. In the words of Justice Albie Sachs, Patron of the Trust, the scholarships make it possible for many deserving "young women of diverse backgrounds to be given the opportunity to obtain top quality education at Ruth's old school and thus follow in her footsteps."