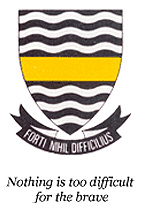 Upcoming Events
News

The new dance squad leaders Rhetsabile Manaka and Monique Tigere performed a dance they had choreographed themselves at final assembly […]

Thelma Brown was a pupil, teacher, mother of 4 daughters that went through the school, and member of the governing […]
More News
Centenary
Donate
Join Groups

MySchool
Click here for more info
Chess
Although many of our senior players matriculated last year, the younger Jeppe players have continued to move from strength to strength.
Our first challenge of the year was the Central Johannesburg Chess League.  We were the only all-girls school competing in the league and owing to the tough competition neither our A nor B team secured any of the top positions. However, the girls were exposed to a vast range of "masculine" tactics and the many rounds they played gave them experience and helped us to develop more aggressive strategies that empowered them to tackle the next league.
During the second term we started our second league which continued in the third term.  With a remarkable improvement in performance and technique, both the U15 and U18 teams achieved impressive results and went to the Gauteng finals in Pretoria. We were very excited when our under-age U19 team succeeded in winning first place in their section.
Our players also excelled in the Gauteng Sports Chess Individual Tournament which was held in second term. Amy Wallace and Kalista January made it through to the U15 final round, while Chiara Cotumaccio, Jacinta Gray, Nicole Saungweme, Mandisa Mpinga and Vanessa Ndiangang were finalists in the U18 section.  After a tough 14 hours of play, Amy Wallace was selected to represent Gauteng at the Nationals in Durban during the holidays.
Office Bearers for 2019 – Captain: Mandisa Mpinga ans Vice Captain: Vanessa Ndiangang
The following girls were acknowledged in 2019 for their contribution to Chess:
Full Colours: Chiara Cotumaccio and Amy Wallace
Half Colours (Re-Award): Mandisa Mpinga, Jacinta Gray and Kalista January
Merit Award: Vanessa Ndiangang, Phomolo Khoza, Nicole Saungweme, Jami Meintjes, S'bonokuhle Sokhela, Yasmine Gani and Nomvebo Mtshali
Team: Mandisa Mpinga