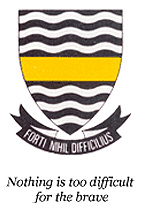 Upcoming Events
News

The new dance squad leaders Rhetsabile Manaka and Monique Tigere performed a dance they had choreographed themselves at final assembly […]

Thelma Brown was a pupil, teacher, mother of 4 daughters that went through the school, and member of the governing […]
More News
Centenary
Donate
Join Groups

MySchool
Click here for more info
Athletics
Our fourth year in the Athletics arena has proven to be the best to date. We have athletes from grades 8-11 participating, with a number of girls being strong enough to compete above their age group. The team achieved 4th place in the 2019 Girls' Schools' Inter-High in October, moving up from last year's 6th place. We competed against Assumption Convent, Brescia House, Kingsmead, Holy Rosary, Potchefstroom Girls, St. Andrews and St. Mary's. The girls are very passionate about their athletics and gave of their best.  They had great support from the rest of the school as well.
Swayde Lessing broke the Senior High Jump record with a jump of 1,65m and finished second in the U16 A 80m hurdles. Bodie Munro came 1st in the U14 A 100m; Nissi Mukuna came first in her U15 A 100m race and second in the U15 A 200m race. Nompumelelo Makhoba came 1st in the Open A 80m Hurdles and Jenna Stolz came first in both the Open A 100m and the Open A 200m events. Tascia Naidoo came 2nd in U14 B 200m and Childera Ibeneche came 2nd in U15A 200m and U14B 100m.
Thanks to Miss Nagel and Mrs Costine for their coaching, commitment and inspiration.
Office bearers for 2019 – Captain: Jenna Stolz and Vice-Captains: Nompumelelo Makhoba and Tristan Torr
The following girls were acknowledged in 2018 for their contribution to athletics:
Full Colours (New):     Jenna Stolz
Half Colours (New):    Cristina D'Andrea, Nompumelelo Makhoba, Nandi Zulu and Swayde Lessing
Merit: Tristan Torr and Nissi Mukuna