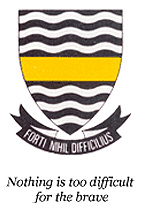 Upcoming Events
News

The new dance squad leaders Rhetsabile Manaka and Monique Tigere performed a dance they had choreographed themselves at final assembly […]

Thelma Brown was a pupil, teacher, mother of 4 daughters that went through the school, and member of the governing […]
More News
Centenary
Donate
Join Groups

MySchool
Click here for more info
Equestrian
Jeppe has had a small team of accomplished equestrians representing the school since 2009. The girls ride from their own stables. They participate in the Equestrian Schools'  League and compete in various disciplines including Dressage, Show Jumping and Equitation.
2018 saw the largest Jeppe Equestrian Team to date, with six riders participating.
Our team took part in the Inter-Schools League and after the four school qualifiers, Sophie Claassen (Grade 12) and Anastasia Judge (Grade 8) moved forward to the regional qualifier on their horses, Alzu Ladina and Breaking Thru. Sophie came first in her class, qualifying her for the National Competition against the other provinces.
Crystal Emslie and Luna White, both in grade 8, took part in the 'Newcomers Challenge' and both automatically went through to the National Competition. Crystal competed with her horse Iron Legend alone, as injury prevented Luna from taking part on her horse Troy.
Talia White (Grade 11) and Jessica McIntyre (grade 12) had a challenging year with their horses who are both ex-racehorses. It was a big learning experience for riders and horses, but they thoroughly enjoyed it.
Equitation is one of the most challenging sports, the only Olympic sport in which male and female athletes compete on equal terms. "Nothing is too difficult for the brave"
The following girls were recognized for their contribution to the sport in 2019:
Half Colours: Crystal Emslie
Merit Award: Anastasia Judge and Jada De Kocks
Team: Talia White