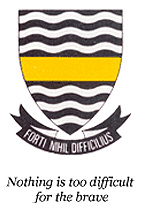 Upcoming Events

…an extravaganza of drama, dance and music on 11th and 12th May. Tickets will go on sale in term 2.
News

67blankets for Nelson Mandela are again going for a world record in July this year – the longest crocheted scarf. […]

Getting into the spirit of the 90th Flower Show which takes place on Friday 23rd February and Saturday 24th February, […]

Congratulations to Caitlin Davies who is seen above with the special medal she was awarded for swimming 8 miles in […]
More News
Centenary
Donate
Join Groups

MySchool
Click here for more info
Orienteering
Orienteering is a running (and walking) sport that is a lot of fun as it involves navigation skills. It combines a good sense of direction, map- reading skills, strategic thinking and stamina and is a bit like a grown-up treasure hunt. It was reintroduced at the school in 2015.
A team of 20 girls competed in 7 fixtures in term 1. In the 2016 finals we had good results with good performances in the top 20 seniors and juniors.
Jeppe Girls in the Junior Top 20
8th Erin Conroy 14:13; 10th Carmen Parker 14:37; 14th Bethany Harker 16:49; 17th Jayme Smith 20:17 and 19th Kimberly January 21:59
Jeppe Girls in the Senior Top 20
5th Shaylene Clark 18:48; 10th Tiffany Harzon 23:03; 15th Danika Moura 25:47 and 20th Zoe Steyn 28:41
Office Bearer for 2017
Captain –  Zoe Steyn
The following girls were awarded for their contribution in orienteering in 2017:
Full Colours (New) – Shaylene Clark
Merit –  Danika Moura, Zoë Steyn, Erin Conroy, Tiffany Harzon, Carmen Parker, Jayme Smith, Tasneem Bharoochi and Kimberley January
Team –  Shaylene Clark, Jennifer Li, Rebecca Li, Danika Moura and Zoë Steyn