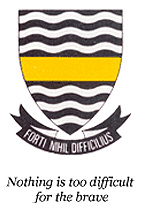 Upcoming Events
News

The new dance squad leaders Rhetsabile Manaka and Monique Tigere performed a dance they had choreographed themselves at final assembly […]

Thelma Brown was a pupil, teacher, mother of 4 daughters that went through the school, and member of the governing […]
More News
Centenary
Donate
Join Groups

MySchool
Click here for more info
Soccer
2018 year proved to be an outstanding year for Jeppe Girls' Soccer with both our U15 and Open Teams playing in the JVW Girls' School League. The U15 team played well but had mixed results for the season, however, the Open Team excelled in the league. The Open Team won the Johannesburg Stream 4 League and the League Cup Tournament which was hosted by the JVW League at Rand Girls. The team thus made it to the JVW Schools League Playoffs that were held in September at Germiston Football Club.  One hundred and sixty teams from Gauteng participated in the League Playoffs and our Open Team performed magnificently making it all the way to the finals. Unfortunately, they were defeated by Parktown High School by one goal in the final.
Our talented team was commended by the League for their outstanding skills, passion and loyalty. They were also congratulated on their sportsmanship and discipline as they did not receive any penalty cards throughout the entire season.
Three of our players, Danica Lotter, Megan Reveley and Naomi Govender, had the distinction of being selected to play for the JVW U19 Select Team. At the JVW Awards function we were extremely proud to learn that Danica Lotter had also been selected for the Elite JVW All Stars Team- a recognition that Danica is one of the top eleven players in Gauteng.
2019 Office Bearers:
Captain: Danica Lotter
Vice-captains: Jessica Henwood and Megan Reveley
The following girls were recognised during 2019 for their contribution to soccer:
Full Colours (Re-Award): Megan Reveley
Full Colours: Jessica Henwood and Danica Lotter
Half Colours: Lerato Tsoai, Kelsey Mark and Andrea Van Der Bank
Merit Award: Oratile Mashiane, Hannah James, Lara Loureiro and Bodie Munro
2018 Team: Naomi Govender, Jessica Henwood, Danica Lotter, Stephanie Marques, Talia McPherson and Kasey Walters