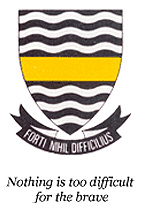 Upcoming Events

The Festival of Nine Lessons Carol Service and Tableau is an annual tradition at Jeppe Girls that started in 1945. […]
News

Bags for Books was a project that started at Jeppe in 2017. A group of ladies who are associated with […]

Congratulations to the Winner of the Sports Star of the Month for September 2018: Swayde Lessing (athletics). Swayde achieved over […]

Seven Jeppe teams participated in the TUKS High School 4-a-side Beach Volleyball Tournament held at Pocock's indoor volleyball arena on […]
More News
Centenary
Donate
Join Groups

MySchool
Click here for more info
Volleyball
Jeppe Girls started in a new league in 2016 called the Goliath League. It is organised by Heronbridge and runs in the first term.
We entered the U16 in the American School's annual tournament and the team did very well, making it to the semi finals. The Teams also played in the TUKS tournament.
Volleyball is a team game in which the players really need to communicate and play as one unit. It is an exciting time to be involved in the growth of this sport. It is played in the first, third and fourth school terms.
Office Bearers for 2018:
Captain –  Phumelela Mbuthu
Vice – Alison Laidley
The following girls were recognised in 2017 for their contribution to volleyball:
Full Colours (New): Angelique Wörhnitz
Half Colours (Re-award): Dakota De Combes
Half Colours (New): Jesse Haydock, Phumelela Mbutho
Merit Award: Rebekah Arnott, Alison Laidley, Suelly Moreira, Jessica Bonthuys, Shannon Howell, Ashleigh Son, Kulthoom Adam, Michelle Njorage, Chelsea Kutama, Chandra Orton, Brooke Porter, Logan van der Walt
Team: Tanica Botha,  Dakota De Combes, Tanya Matsimbe, Naledi Mokgoko, Teagan van Tonder, Angelique Wörhnitz