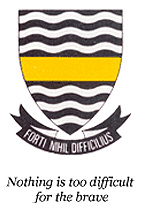 Upcoming Events
News

The new dance squad leaders Rhetsabile Manaka and Monique Tigere performed a dance they had choreographed themselves at final assembly […]

Thelma Brown was a pupil, teacher, mother of 4 daughters that went through the school, and member of the governing […]
More News
Centenary
Donate
Join Groups

MySchool
Click here for more info
Volleyball
2018
Jeppe Girls' nine volleyball teams played a total of 149 league and tournament match fixtures this year, winning 76 of these games for an overall 51% win ratio. Unfortunately our senior U18 First Team seemed cursed by quarterfinal eliminations in both league and tournament matches this season. Nevertheless our junior U14 team more than made up for their senior counterparts and excelled by taking bronze medals at the Fourways High School Tournament in March and then finishing second in the TUKS Beach Volleyball Tournament senior plate section in October. The U16 teams also demonstrated their potential with the best win ratio of 65% (of all teams playing 20 fixtures or more). All in all a most enjoyable season was had by the volleyball squad, with the highlight being the Mahikeng Tour for our First Team.
The International School of South Africa based in Mahikeng, North West, hosted their 10thAnnual High Schools' Volleyball Tournament on the first weekend in August. Our First Team embarked on their first ever volleyball tour with ten very excited senior players.  The hosting school's facilities were outstanding and our players were overwhelmed by the number of participating school teams (24 teams in the girls' section). Many teams from our neighbouring states, Zimbabwe and Swaziland, travelled long hours to make the trip. Our players did exceptionally well by winning all four of their pool matches against St Vincent's School for the Deaf, Pretoria High School for Girls, Harare Girls' High, and the Deutsche Schule, Johannesburg, to set up a quarterfinal match against Kwadzana, Zimbabwe. Unfortunately our winning streak came to an end against this strong Zimbabwean team, who finished the tournament as trophy section runners-up. Jeppe played and lost one last playoff match against Waterford, Swaziland, to finish just outside of medal placings in the plate section.  This fun-filled weekend was most memorable and the senior team's exposure to high quality volleyball augers well for their continued participation in this premier event on the schools' volleyball calendar.
Volleyball is a team game in which the players really need to communicate and play as one unit. It is an exciting time to be involved in the growth of this sport. It is played in the first, third and fourth school terms.
Office Bearers for 2019:
Captain: Jessica Bonthuys
Vice Captain: Ashleigh Son
The following girls were recognized in 2019 for their contribution to volleyball:
Full Colours: Jessica Bonthuys and Ashleigh Son
Half Colours: Shannon Howell, Karina Daya, Monique Tigere and Chandra Orton
Centenary Gold Medal Award: for learners who excel as a team in inter-school events: Katja Clausen, Kiara Johnston, Chelsea Kutama, Brooke Porter, Logan Van Der Walt and Tatum Murphy
Merit Award: Andrea Van Der Bank, Angelina Mendonca, Keanno Naidoo, Diya Narotam, Angelique De Sousa, Rorisang Kabane and Cassidy Singh
Team: Jessica Bonthuys, Shannon Howell, Ashleigh Son and Tayla Vrey