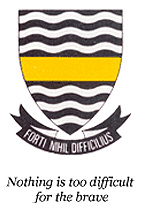 Upcoming Events

Friday 22nd February 14:30-18:00 and Saturday 23 February 08:30-12:30 Entrance Adults R10, Scholars R5. Refreshments will be on sale.

To download the document, please click on the heading "Code of Conduct 2019″ on the home page Menu and once […]
News

Congratulations to Ntsakisi Ntsekhe (class of 2018) who has been awarded a scholarship from the prestigious Allan Gray Orbis Foundation. […]

Congratulations to our class of 2018. They continued the school's legacy of excellence by attaining a 100% pass rate, the […]
More News
Centenary
Donate
Join Groups

MySchool
Click here for more info
Sports Star of the Month – October 2018
Congratulations to the Winner of the Sports Star of the Month: Caitlin Strydom (cricket). Caitlin batted for the entire innings against Northcliff High, with 8 wickets down and bad light. She was instrumental in securing a win for the second team after a spectacular run chase and only 8 balls to spare.