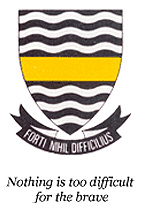 Upcoming Events

Friday 22nd February 14:30-18:00 and Saturday 23 February 08:30-12:30 Entrance Adults R10, Scholars R5. Refreshments will be on sale.

To download the document, please click on the heading "Code of Conduct 2019″ on the home page Menu and once […]
News

Congratulations to Ntsakisi Ntsekhe (class of 2018) who has been awarded a scholarship from the prestigious Allan Gray Orbis Foundation. […]

Congratulations to our class of 2018. They continued the school's legacy of excellence by attaining a 100% pass rate, the […]
More News
Centenary
Donate
Join Groups

MySchool
Click here for more info
World Choir Games – Good Luck Jeppe Girls!
The Jeppe choir will be participating in the 10th World Choir Games to be held in Tshwane from 4th to 14th July. More than 300 choirs with over 16 000 participants from 60 different countries will be taking part. The choir is conducted by Mr Johan Bester and accompanied by Dr Elize Kruger. What a wonderful experience for Jeppe Girls to be able to compete against the best choirs in the world!
 This is not the first time that Jeppe Girls have taken part in the World Choir Games. Their previous experience was in 2008 with a smaller choir in Graz, Austria. They sang in two categories – Popular Choral Music (Open) and Gospel and Spiritual (Open) and brought home 2 silver medals. The 2008 choir was conducted by Mrs Irene Morrick.
This year Jeppe will again be performing in two categories: Sacred Music with accompaniment on Thursday 5th July at 11h00 in St Albans Cathedral , 237 Francis Baard Street, Pretoria and in Youth Choirs Equal Voices on Friday 6th July at 14:00 in the ZK Mathews Great Hall (UNISA), 330 Preller Street, Groenkloof. The school and staff wish them every success.
Tickets are required to watch performances. Please visit wcgnutickets.co.za for a day pass, a week pass or an event pass.